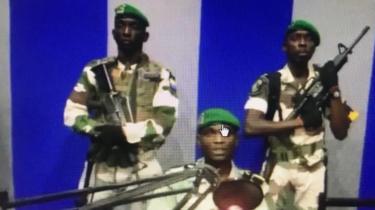 Attempted coup d'état in Gabon.
The army announces a coup d'état. There are tanks and armed vehicles in the streets of the capital, Libreville, and a curfew imposed.
In a statement read on Gabonese national radio and television, a group of young officers known as the Patriotic Youth Movement of the Defense and Security Forces spoke of President Ali Bongo's inability to lead the country.
This movement "concerned with saving democracy in danger and preserving national integrity and cohesion has decided to take its responsibilities in order to defeat the maneuvers aimed at the confiscation of power," said the soldier who read the statement.
He also said that "it's time to take control of our destiny, this day has come".
A witness, joined in Gabon says that since 3am, shots are heard in several neighborhoods of Libreville.
The main roads leading to the city center are blocked. National radio and television journalists say they are being held hostage.
Currently the situation is calm, says this witness. But our efforts to reach the Gabonese authorities have not succeeded.
Latest News