A bomb has exploded inside a car outside the courthouse in Londonderry.
The explosion occurred in Bishop Street shortly after police received a warning. They were on the scene when the blast occurred.
No one is believed to have been injured.
Officers had just started evacuating nearby buildings, including a hotel, when the explosion took place. A cordon has been set up at the scene.
A firefighter at the scene said: "We have not yet been allowed near the actual scene of the blast yet, so we don't know what the damage is.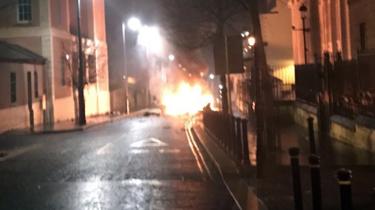 "When we do move in, our first priority will be to extinguish the fire in the car."
An eyewitness told the BBC: "The remains of the car could still be seen burning in the middle of the road.
"A cordon has been set up around the scene and police are evacuating more buildings on Bishop Street."
In a statement issued on Facebook, the PSNI said: "As far as we know no one injured."
However, they said that there is another car they "are not happy about" and are evacuating the area and advising residents in the area to make preparations to leave.
Sinn Féin MP Elisha McCallion said the incident had "shocked the local community".
"In particular, there are many elderly residents who live in the area who have been alarmed by this incident.
"Thankfully no one appears to have been injured in this incident.
"Derry is a city moving forward and no one wants this type of incident. It is not representative of the city."
SDLP MLA Mark H Durkan has tweeted: "Whoever is responsible for this explosion outside Bishop Street Courthouse in Derry clearly hasn't got the message that the people of Derry DO NOT want this on our streets.
"We are trying to move Derry forward and will not let anyone drag us back to the dark days of the past."
The DUP MLA, Gary Middleton, has described the incident as a "disgraceful act of terrorism".