Venezuelan opposition leader Juan Guaidó has called on other nations to consider "all measures" to oust President Nicolas Maduro.
International pressure is building on Mr Maduro after opposition-led efforts to bring aid into Venezuela descended into deadly violence on Saturday.
At least two people died in clashes between civilians and troops loyal to Mr Maduro, including a 14-year-old boy.
The president has blocked aid deliveries from entering Venezuela.
Mr Guaidó marshalled volunteers to collect and transport the aid from Brazil and Colombia but the efforts set off fierce border clashes with soldiers, who opened fire using a mixture of live ammunition and rubber bullets.
The US Secretary of State, Mike Pompeo, condemned the violence by "Maduro's thugs" and said the US was prepared to "take action". President Donald Trump said that Washington had not ruled out an armed response.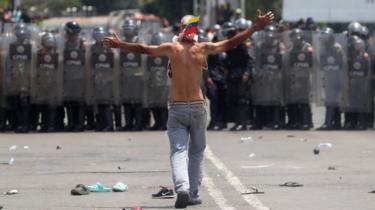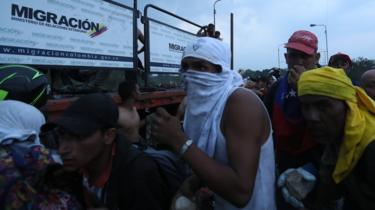 Mr Guaidó, 35, last month declared himself interim president and has since been recognised as interim leader by more than 50 countries.
He has cited a constitutional provision that passes power to the leader of Venezuela's parliament if the president is "absent". Mr Guaidó argues that alleged irregularities with the nation's 2018 election render Mr Maduro's leadership illegitimate.
Mr Guaidó has announced his attention to participate in a meeting of mostly Latin American countries in Bogota, Colombia on Monday, despite being under a travel ban imposed by Mr Maduro. US Vice President Mike Pence will represent Washington at the meeting.
Deadly violence at the border
Led by Mr Guaidó, Venezuela's opposition had intended to peacefully bring aid trucks over the borders with Brazil and Colombia. Soaring inflation has left many Venezuelans unable to afford basic items such as food, toiletries, and medicine.
Mr Guaidó had pledged that the aid would come in to the country on Saturday. In response, Mr Maduro partly closed the country's borders, citing threats to security and sovereignty.
On Saturday, Venezuelans civilians attempted to cross in order to get to the stores of food and medicine, but the attempt quickly descended into bloody violence. Protesters clashed with security forces loyal to the president along Venezuela's southern border with Brazil and western border with Colombia.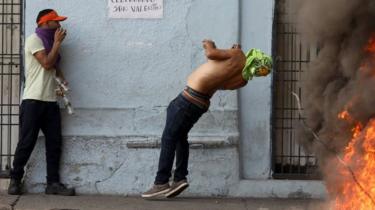 How the story unfolded

14 April 2013
Nicolás Maduro is narrowly elected president of Venezuela after the death of long-serving socialist leader Hugo Chavez. The vote is marred by claims of fraud by the opposition.

18 February 2014
A wave of protests against Mr Maduro leads to the arrest of opposition leader Leopoldo Lopez, who remains under house arrest.

29 March 2017
Venezuela's Supreme Court says it is taking control of the National Assembly, prompting months of anti-government protests that leave 100 dead. The Supreme Court reverses its decision.

17 July 2017
More than seven million Venezuelans vote in an opposition-organised referendum against Mr Maduro's plans to create a new body with the power to control the National Assembly.

20 May 2018
Mr Maduro wins snap election. The two leading opposition candidates reject the results, saying the election was marred by vote-rigging.

8 November 2018
The UN announces that the number of refugees and migrants who have left Venezuela has passed three million. Venezuela's economy is tanking, creating widespread food and medicine shortages.

10 January 2019
Mr Maduro is inaugurated as president. The little-known new leader of the National Assembly, Juan Guaidó, calls the president a "usurper".

21 January 2019
As Venezuela's economy continues to fail, a Caracas based charity says it has recorded at least 107 episodes of looting and several deaths across the country.

23 January 2019
Citing emergency powers, Mr Guaidó declares Mr Maduro's leadership illegitimate and claims the presidency. He is recognised by the US and several Latin American countries, creating two rival claims to the office.

7 February 2019
Humanitarian aid arrives at the Colombian border with Venezuela, ready to enter the country, but Mr Maduro instructs the army to block the roads with oil tankers.