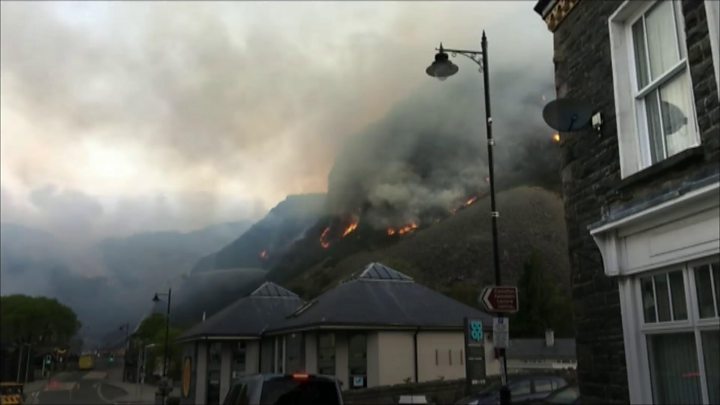 Families in about 20 homes had to be evacuated after a large fire engulfed a mountain.
The huge fire in Blaenau Ffestiniog was described as "looking like a volcano"
North Wales Fire and Rescue Service had 30 firefighters at Blaenau Ffestiniog, Gwynedd, overnight.
Eyewitness Chris McPhail said: "As I was driving up I could just see the glow and a load of smoke. It just looked like a volcano."
The alarm was raised just before 20:30 BST on Monday, with residents asked to leave in the early hours of Tuesday.
The fire service said it was still dealing with hotspots flaring up in the area.
BBC Wales' Laura Raymond said she was woken by firefighters "smashing open" fire hydrants at about 03:00.
"The hill was literally glowing from behind," she said.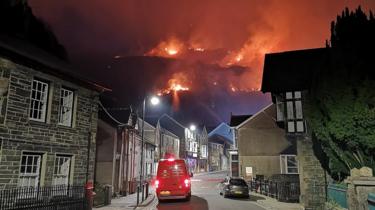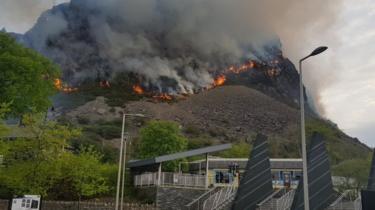 The blaze is thought to have started behind quarry workings in an area overlooking the town called Garreg Ddu – Black Rock.
"Black Rock is like a huge gigantic lump of coal, with burning embers," said Ms Raymond.
"We've been well looked after and the crews have done an amazing job. We're just so thankful because the crews have directed it away from the houses."
Part of the A470 Church Street through the town remains closed, to allow access to the remaining hillside hotspots.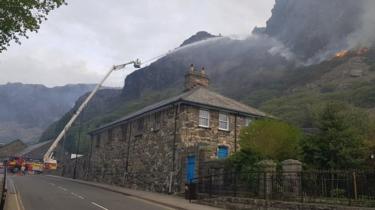 Geraint Hughes, who is managing the fire operation on the ground, said his teams had faced substantial challenges tackling the blaze.
"The rugged terrain and the steepness of it makes it difficult to put staff and personnel on the mountain to tackle it with beaters or hose-reels," he said.
"Consequently, we've had to use the aerial ladder platform here to get at those places on the rock faces, because the fire is coming down the mountainside and, obviously, has been coming close to properties."
He said fire crews were "currently managing" the situation, however some areas were continuing to flare-up.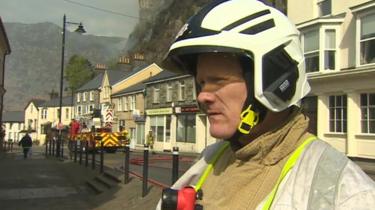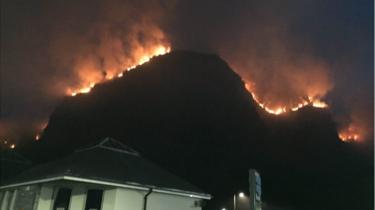 Many of the evacuated residents spent the night in a cafe, including Jackie Brunger.
"It was just glowing orange and it was absolutely frightening – I've never seen anything like it," she said.
"We were told to get away as soon as we could, so we took our car and went to the cafe.
"There was ash and bits of flame coming down. How far it has spread, so quickly – it was frightening."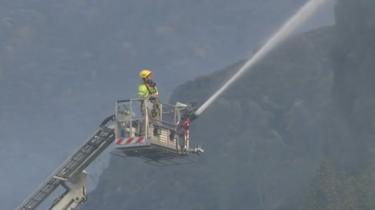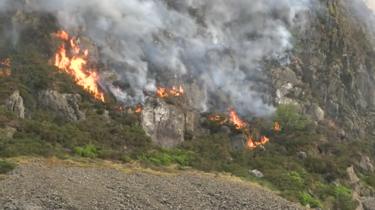 Sue Roberts opened up De Niros cafe for those told to leave their homes, and helped keep fire crews and police teams fed during the night.
"It's been a bit busy," she joked. "It looked quite spectacular when you think about it."
People have now started returning to their homes in the area, with firefighters winding down operations.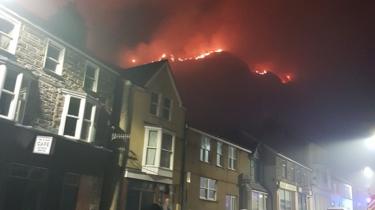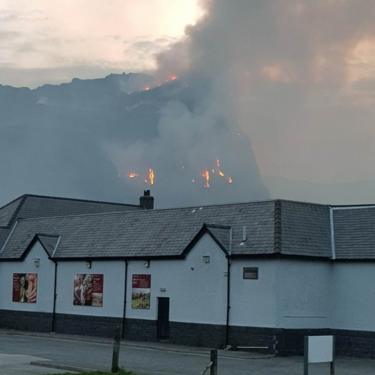 Gwynedd Council opened a temporary rest centre at Bro Ffestiniog community centre.
But a spokesman added: "Thankfully, those affected have been supported within the local community and have not needed to make use of the centre."
Councillor Anwen Daniels said she thought the council would work closely with the fire service to prevent a repeat of events.
"Blaenau Ffestiniog is infamous for being a wet place – but when you want the rain, it isn't coming," she added.