Jeremy Corbyn says he is "very sorry" the party has lost control of three heartland councils in the North despite a significant victory in Trafford.
Labour took full control of the former Conservative flagship council, gaining six seats as the Tories lost nine.
But he said the party should have done better in Hartlepool, Wirral and Bolsover where they lost control.
So far Labour has lost 83 seats across the country.
But the victory in Trafford is the first time Labour has taken control there since 2003.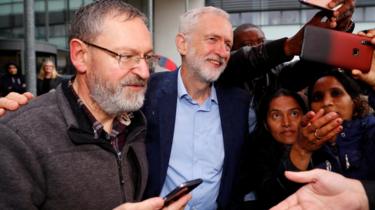 Sir Graham Brady, Conservative MP for Altrincham and Sale West, indicated the Brexit deadlock in Westminster had been a factor for the Tories.
"It has undoubtedly been harder for us to get our vote out because of dissatisfaction with the national scene," said Sir Graham, who is chairman of the 1922 Committee, which represents Conservative backbenchers.
He added: "I think the overwhelming view on the doorsteps has been 'for heaven's sake, get on with it'.
"I think there is massive frustration that we have yet to see the whole thing through."
Speaking in Sale, Labour leader Mr Corbyn told the BBC: "We have won Trafford to an overall majority.
"We have had swings to Labour across a number of councils across the whole of the country and that gives us a basis on which we can win marginal seats in places such as Swindon, Thurrock and other places."
He said the achievement in Trafford was "amazing" but added that he was "very sorry" about losing so many councillors across the country.
Mr Corbyn said: "We will fight back and we will win them back."
"Of course we wanted to do better. We always want to do better. That's what we are in politics for."
'Very painful night'
In Trafford, Labour gained Ashton-upon-Mersey, which has always voted Conservative, while the Greens took a seat from the Tories in Altrincham and the Liberal Democrats also added two seats.
Sean Anstee, the former Tory leader of the council, told the BBC: "We need to rethink who we are. The prime minister has to think about her position."
He added: "It was a very painful night overall. Not just for the party as a whole, but for those dedicated and hardworking councillors who have served the community for a number of years, but lost out tonight."
The new Labour leader of Trafford Council Andrew Western said: "It's a stunning set of results tonight. We've won a ward that we've never won before.
"I think this is an endorsement of our first year in office and I could not be happier with the result."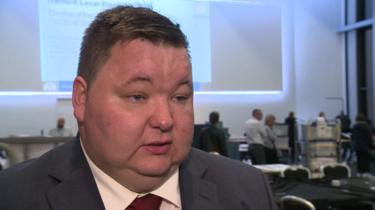 The story was not so positive for Labour in Bolton, where the party lost seven seats and its grip on the council which now has no overall control.
Independent groups Farnworth and Kearsley First and Horwich and Blackrod First Independents took four of those, promising to fight for their area.
In Wigan, Labour won 20 out of 25 available seats but saw their number in the council chamber reduce by three.
Independent candidates won seats in Bryn, Atherton and Hindley while the Conservatives took Orrell from Labour.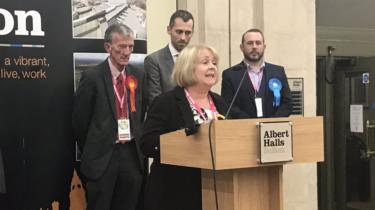 Elsewhere in Greater Manchester, Labour held on to Tameside, Oldham, Bury, Salford and Rochdale.
Labour maintained its tight grip on Manchester City Council, despite losing one of the 33 seats it was defending to the Lib Dems.
In Stockport, both Labour and the Lib Dems made small gains at the expense of the Conservatives but the council remains in No Overall Control.
England scoreboard
| PARTY | COUNCILLORS | +/- |
| --- | --- | --- |
| Conservative | 3562 | -1334 |
| Labour | 2023 | -82 |
| Liberal Democrat | 1350 | +703 |
| Green | 265 | +194 |
| UKIP | 31 | -145 |
| Others | 1179 | +662 |
Councillors change compared with 2015