The second day of counting is under way in Northern Ireland's council elections with three quarters of the 462 seats filled across 11 councils.
The first day, saw some surprising gains for Alliance and the Greens.
The DUP had its first openly gay politician elected, while People Before Profit also made gains.
Sinn Féin had a mixed set of results on the first day of counting, while the Ulster Unionist Party (UUP) lost a number of seats.
Results so far…
| Party | Councillors |
| --- | --- |
| Alliance Party | 47 |
| DUP | 100 |
| SDLP | 46 |
| Sinn Féin | 81 |
| UUP | 64 |
| Others | 37 |
Source: BBC
The sister party of the Liberal Democrats in Great Britain, Alliance is Northern Ireland's main centrist cross-community party, seeking to attract support from both Protestants and Catholics.
In Belfast's Castle area, Sinn Féin's John Finucane was elected on the first count. He is the son of murdered solicitor Pat Finucane was shot dead, aged 39, in front of his wife and three children in 1989.
Alliance's Nuala McAlister topped the poll.
In Derry and Strabane District Council, Independent councillor Gary Donnelly topped the poll in the Moor electoral area – where journalist Lyra McKee was killed last month by dissident republicans.
He had refused to condemn violent dissident republicanism but in the wake of her murder he called on the New IRA to desist from further attacks.
Alliance have had a stunning result so far – they have managed to break the trope that they are a Belfast-centric party by winning seats across Northern Ireland and topping the poll in many areas.
The Green Party and People Before Profit have also had a winning weekend, increasing their representation in several areas.
The two biggest parties – the DUP and Sinn Fein – have seen their vote come out, but in several areas, gambles to win more seats haven't paid off.
It's been a bad few days at the office for the Ulster Unionist Party – their vote is down in many areas and they are expected to suffer more political casualties before today draws to a close.

Meanwhile, an independent candidate – who only stood for election after a Facebook post suggestion posted on 1 April garnered online support – has been elected to Antrim and Newtownabbey District council.
Michael Stewart, who runs the Love Newtownabbey Facebook page, said: "I wasn't aware there would be this massive surge to independents, the Greens and Alliance. I didn't know I was part of anything."
He added: "I am one of those people who voted for me, who've no interest in politics – they care about holes in their roads, no paper in their schools and that they can't get an appointment with their health centre."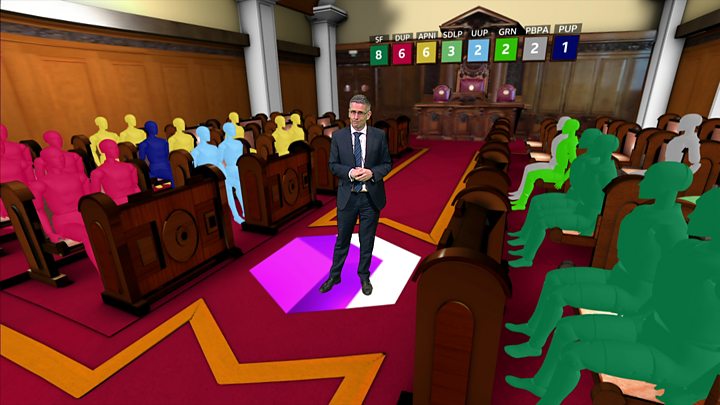 In Armagh City, Banbridge and Craigavon District Council, Brian Pope of Alliance was elected following a marathon count that went on until 06:00 on Saturday morning.
Elsewhere, the election of the DUP's first openly gay politician was welcomed by one of the party's senior politicians.
Alison Bennington was elected to Antrim and Newtownabbey.
Belfast East MP Gavin Robinson said it was a "good news story", despite assembly member Jim Wells claiming members were "shocked by the decision" to let her run.
The remaining seats across Northern Ireland will be filled on Saturday.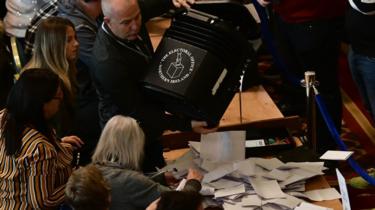 BBC's is covering the latest election results and analysis on our website, mobile app and on Facebook and Twitter pages.
A dedicated live page will keep you up to date as the results are announced.
There is also a special election programme on BBC Radio Ulster and BBC One Northern Ireland from 10:00 on Saturday with an hour-long Sunday Politics programme on the same channel at 11:00 on Sunday.